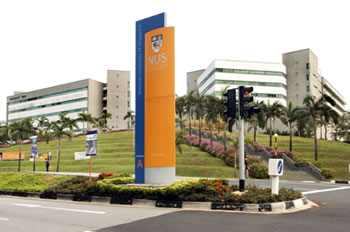 The ASEAN Undergraduate Scholarship (AUS) is offered by the National University of Singapore (NUS) to full-time NUS undergraduates who have outstanding academic merit and co-curricular activities.
Eligibility
The AUS is awarded to freshmen based on academic merit. These freshmen must be citizens or permanent residents of an ASEAN* member country. Singapore citizens are ineligible to apply for the AUS.
Candidates will be considered and shortlisted for interviews through their application for admission to NUS. No separate scholarship application is required.
*ASEAN nations: Brunei Darussalam, Cambodia, Indonesia, Laos, Malaysia, Myanmar, Philippines, Singapore, Thailand and Vietnam.
Terms & conditions
The scholarship covers tuition fees and provides an annual living allowance of S$5,800. The scholarship is tenable for the minimum period of candidature for the respective undergraduate courses at NUS.
The scholarship does not carry a bond. However, tuition fees at NUS have been subsidised by the Singapore Ministry of Education (MOE) through the MOE Tution Grant Subsidy. The MOE Tuition Grant Subsidy is not covered under the scholarship scheme. The MOE Tuition Grant Subsidy carries a bond for students who are not Singapore citizens. All Singapore permanent residents and international students taking up the MOE Tuition Grant Subsidy are required to work with a Singapore-registered company of their choice for three years upon graduation. Due to the higher fees and subsidies for the Dental and Medical courses, students in these courses are obliged to work for a longer bond period of five and six years respectively.
The scholarship is open to students from all faculties. However, candidates should note that due to the highly competitive nature of courses like Medicine, Dentistry and Law, there are limited scholarships for students who wish to pursue these courses.
Recipients of the scholarship may not concurrently hold any other scholarship, fellowship, grant or award without prior approval from the University.
The University does not provide any assistance towards travel or other costs nor does it guarantee employment for the scholar upon graduation.
The scholarship covers the entire duration of undergraduate studies on condition that scholars maintain a minimum CAP (Cumulative Average Point) of 3.5. The academic performance is monitored on a semester basis.
Application & Shortlisting process
If the scholar decides to terminate the scholarship prematurely, the university reserves the right to impose a repayment on a case-by-case basis.
All applicants for admission to NUS will be shortlisted automatically through their application for admission.
Shortlisted candidates will be informed by June of the year of admission.
Scholarships are awarded on the basis of competition among eligible candidates. Shortlisted candidates will be notified by email for a scholarship interview. Leadership, co-curricular records and other capabilities will be assessed during the interview. Please note that the University shortlists candidates strictly based on academic merit. Not all applicants for the scholarship will be called for an interview.
NUS reserves the right not to award any scholarship if there are no candidates of sufficient merit. The decision of the selection committee is final. Enquiries or disputes surrounding its decisions will not be entertained.
Enquiries
For enquiries, please click here to send us an email.
Disclaimer: Every effort has been made to ensure the above information is current and correct. However, applicants should contact the appropriate administering body before making an application, as details do change frequently.

Berikan Komentar Anda